Bennett Enterprises gift cards as a fundraiser for non-profits.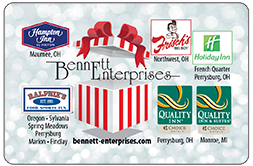 Selling gift cards is a great way for non-profits to earn money. Bennett Gift Cards can be redeemed at Frisch's Big Boy, Ralphie's Sports Eatery or any of our hotels. Bennett gift cards never lose their value, nor are there maintenance fees against the balance. However, they do expire after five years.
Bulk Order Non-profit:
Purchases of $100-500 - Non-profit earns 10%
Purchases of $501+ - Non-profit earns 15%
Purchase $450 in gift cards and sell for face value and earn $50 for your non-profit organization.
This would be equivalent to selling (20) $25 gift cards.
Annually, from end of November thru December 31, for every $25 in gift cards, get a $5 bonus gift certificate. During this time frame, you can choose between the discount or have the bonus certificates.
Bennett Enterprises gift card for business.
Give the gift of hospitality or dining. The Bennett gift card is great as gifts, promotional incentives, customer thank-yous, and rewards for a job well done.
When you give Bennett Gift Cards, your recipients can redeem at Frisch's Big Boy, Ralphie's Sports Eatery or any of our hotels.
Bulk Order for Profit:
Purchases of $500+ - receive a 10% discount
That's just like saving $50 when you purchase (20) $25 gift cards.
Bulk orders must be purchased through our home office in Perrysburg, Ohio.
Two ways to purchase.
1) We can take your order over the phone, email you a paypal invoice & pay with credit card.
2) Place the order over the phone and pay by company check or cash and pick up in person.
If you have any questions regarding either of these bulk gift card programs,
please call us at 419.874.1933 and ask for Beth ext. 7105 or Ashley ext. 7117
Need just a few cards? Purchase gift cards online or at any of our locations.